2019 GLG Natural Gemstone Jewelry Show Dates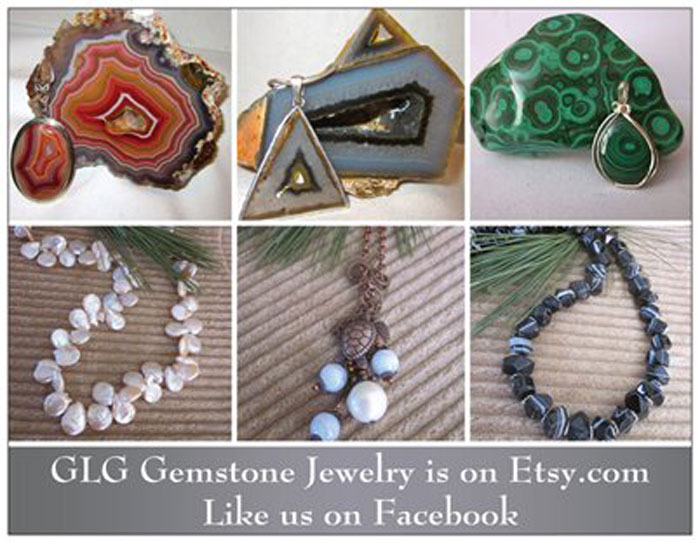 October 2019
Rivertown Fall Art Festival 2019
October 5, 2019
Join GLG at the Rivertown Fall Art Festival 2019, downtown Stillwater along the scenic St. Croix River. Two days: Oct. 5, 10-5 and Oct. 6, 10-4 We'll have on full display all of fall jewelry collection...golds, red, greens, browns PLUS our birthstone collection PLUS lots of pendants and necklaces PLUS polished rock specimens. Don't miss this one! See you there.

Des Moines Lapidary Society: Gem, Jewelry, Mineral & Fossil Show 2019
October 19, 2019
GLG will exhibit at the 2019 Des Moines Gem, Jewelry, Mineral, and Fossil show on Sat. Oct. 19, 9-5 and Sun., Oct. 20, 10-4. This is a HUGE show with thousands of visitors Location: IOWA STATE FAIR GROUNDS, (Knapp Animal Learning Center) 3000 E. Grand Ave. Des Moines IOWA! Lots of new and unusual specimens. Celebrate fall with our Red Creek Jasper jewelry collection and more. Catch the fall scenery and join us for a FABULOUS FALL ROCK SHOW!






Mn Mineral Club Annual Show 2019
October 19, 2019
GLG will exhibit at the 2019Minnesota Mineral Club Annual Show WHEN: Sat. Oct. 19, (10-5) & Sun. Oct. 20 10-4 WHERE: National Guard Training & Community Center, 8180 Beldon Blvd. Cottage Grove, MN Check out our new and unusual specimens! We've launched a number of new natural stone collections plus mixed metals....Summer may be over, but fall brings a time of celebration. Outdoor vendors too. Bring the kids for lots of FREE interactive rock experiences. Bring the family! See you there!











November 2019
Anoka County Rock Club Annual Show 2019
Nov. 16, 2019
GLG will be at the Anoka Club's Annual ROCK SHOW! You've been waiting for this one....give a special rock gift this year. Check out GLG's natural gemstone jewelry collections of natural stone pendants, gemstone pendants, birthstone pendants....more PLUS unique rock and mineral specimens. When? Sat. Nov. 16 (10AM t 5PM) and Sunday, Nov. 17 (10AM - 4PM) WHERE? Crystal Community Center, 4800 Douglas Drive N, Crystal, MN (Crystal Community Center) Bring the family! FREE ADMISSION!


December 2019
Landmark Center Holiday Bazaar 2019
December, 05, 2019
Mark your 2019 calendars! LANDMARK CENTER HOLIDAY BAZAAR! Thursday, December 5th, 10-8, Friday, December 6th, 10-8 and Saturday December 7th, 10-5. Landmark Center, 75 5th ST. W in St. Paul. Bring your wish list-one stop shopping! Enjoy a beautiful setting, live holiday music, and the best of GLG jewelry. We're located on the 3rd floor, Historic Court Room 326.




Women's Arts Festival
December 14, 2019
The Annual Women's Art Festival will be held on Sat. Dec. 14, 9:30 to 4:30 at the Colin Powell Youth Leadership Center, 2924 4th Ave. South, Minneapolis, MN This is a ONE DAY ONLY SHOW. One half of the GLG team will be there with her collection of one-of-a-kind jewelry made for this event. DON'T MISS THIS ONE!


January 2020
February 2020
Tucson Gem and Mineral Show 2020
February 01, 2019
Tucson becomes a playground for the world of international gem and mineral collectors. Vendors from around the world showcase "all things rocks". Surprises! Bargains! Lots of fun. If you're interested in rocks, gems, fossils etc, put this on your top ten list of events to go to.

March 2020
April 2020
May 2020
June 2020
July 2020
August 2020
September 2020