Collector's Corner
The mineral and gemstone kingdom is filled with amazing examples of nature's wonders. The Collector's Corner is designed to spotlight the unique colors, patterns, sizes, and shapes of top minerals and gemstones from around the world. Each specimen exhibits the qualities that set it apart. We've included a wide range of examples including fossils, agates, crystals, minerals and precious gemstones. All of the specimens for sale in the Collector's Corner are one-of-a-kind so check often for new additions to the collection.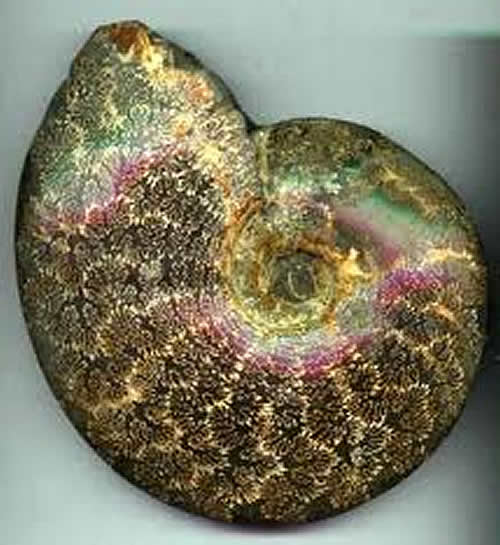 Ammonite
Iridescent ancient ammonite fossils are an extinct group of marine animals related to the mollusks family. The name "ammonite" was inspired by the spiral shape of their fossilized shells which resemble a horn. Ammonites are an excellent index fossil which makes it possible to link the rock layer in which they are found to specific geological time periods. Ammonites are said to be 200 million years old! They have been collected and prized for their aesthetic and geometrical beauty for thousands of years.
Metaphysical properties
Ammonite is a stone of protection. It provides insight and helps a person to see the "whole picture". It also imparts stability.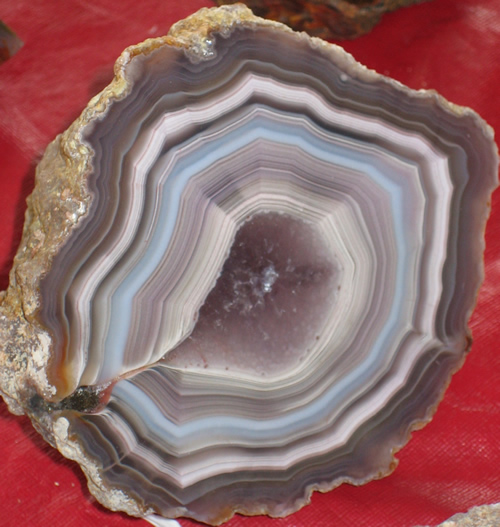 Laguna Agate with Druzy Quartz
A blue layer of banding offers a stunning surprise to the gray and white banding in this Laguna Agate. Agate often forms the lining of geodes with crystalline quartz crystals. When ground water carries dissolved silica and forces it into a porous area of the rock, rapid cooling occurs. Tiny crystals, the druzy crystals, then form on the surface or in the cavity of that rock.
Metaphysical properties
Agates provide stability and strength. Individual banding colors add to the stone's properties. All druzy crystals are thought to promote inner strength. The agate and druzy crystals in this specimen make it a powerful mineral combination.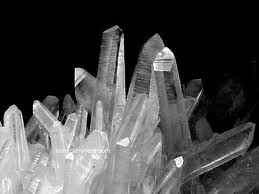 Crystal Clusters/Points
Quartz is the second most abundant earth mineral and belongs to the triagonal crystal system. Well-formed crystals typically form in a "bed" that encourages growth of a single crystal or a group of crystals where many points are embedded in the base. Crystals may be clear and transparent or may contain a variety of inclusions. Quartz is often referred to as the universal stone or the universal crystal. It is used as a power stone or as a type of battery to balance, absorb or reflect energy.
Metaphysical properties
Crystal clusters radiate positive energy into the surrounding room and are also used to absorb negative energy.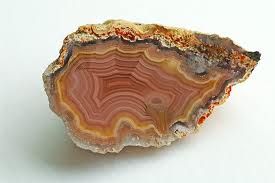 Laguna Agate
Laguna Agate is considered to be the most colorful banded agate in the world. Therefore it is one of the most highly sought after for its tight banding and vibrant colors. It is found in a mountain range in the state of Chihuahua, Mexico. Agate is a member of the chalcedony family. It has a hardness of about 7 on the Moh's scale. The name "agate" is derived from its occurrence at the Achates River in Sicily.
Metaphysical properties
Agates are said to have the qualities of stabilizing and strengthening. They improve memory and increase energy.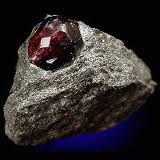 Garnet
The garnet group includes six common species that are recognized by their chemical composition. The name "garnet" may come from the Middle English work gernet meaning dark red. Almandine garnet occurs in metamorphic rock like mica schists. Oriental garnet, almandine ruby and carbuncle are nicknames of Almandine garnet. As the gemstone for January, garnet signifies loyalty, devotion and an abundance of energy.
Metaphysical properties
Garnet makes you attractive to other people by bringing out your best qualities. It attracts like-minded people to you. It also provides balance between the physical, spiritual and the nervous system.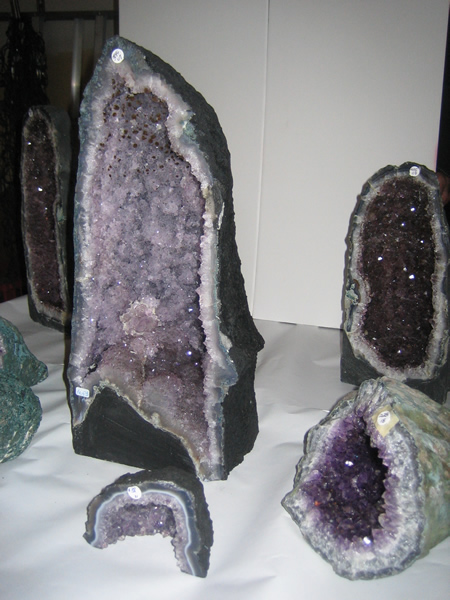 Amethyst Crystal Cathedrals
Amethyst crystal geodes and larger cathedral forms are usually formed in "bubbles" and other cavities in volcanic rock, especially molten rock that has intruded into other preexisting rock layers. As the rock cools, gases come out of solution and form "bubbles" and cavities in the rock. As the rock slowly cools, the silicon dioxide crystallizes to form quartz crystals on the inside walls of the "bubble" and gradually starts transforming it into a geode. Hot ground water also contributes as it percolates upward through the rock. When dissolved impurities are present when the quartz crystals are forming that produce a purple/violet color. As the solution becomes more concentrated, it eventually also comes out of solution to be incorporated in the quartz crystals. Hence the purple/violet color becomes more intense in the tips of the crystals. Crystal colors can range from dark purple, to medium purple to blue and to gray.
Metaphysical properties
Amethyst heals all levels of the mind, body and spirit. Amethyst is also known for its healing power with all sorts of addiction problems. In addition, it is associated with peace and tranquility while soothing and protecting a person. These qualities are amplified in an amethyst cathedral due to the size and number of crystals.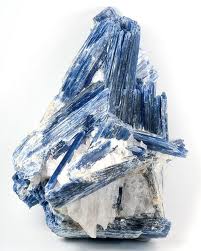 Kyanite
Kyanite whose name derives from the Greek word kuanos means "deep blue". Originally kyanite minerals were called "disthene' which means "two strengths". Kyanite forms when high temperature and pressure cause the mineral to undergo metamorphorphism. Its typical formation includes prismatic bladed crystals and/or radiating masses of crystals. The hardness varies from 4.5 to 6.5 on the Mohs scale.
Metaphysical properties
Kyanite is a power stone of manifestation toward reaching your hopes, dreams, and desires. It is one of two stones which never needs cleansing or clearing. It also helps to quiet the mind and acts as a calming stone.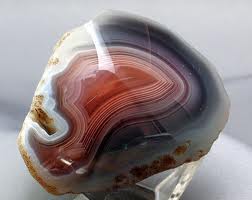 Botswana Agate
Agate is the banded form of the chalcedony family trigonal crystal system. Botswana agate is found in Boswana, Africa and exhibits beautiful soft colors of gray, pink, apricot , and purpleand fine white parallel banding. Its fortification patterns are usually circular. Usually, it is found in the form of nodules.It hardness is between 6 and 7 on the Mohs scale. This stunning Botswana agate exhibits the best of qualities of color, banding, and pattern.
Metaphysical properties
Botswana Agate is sometimes called the "change stone" because it helps handle changes and transformation in a positive way. It also increases the power of intuition. It is helpful in overcoming addictions and other negative behavior patterns.