Sodalite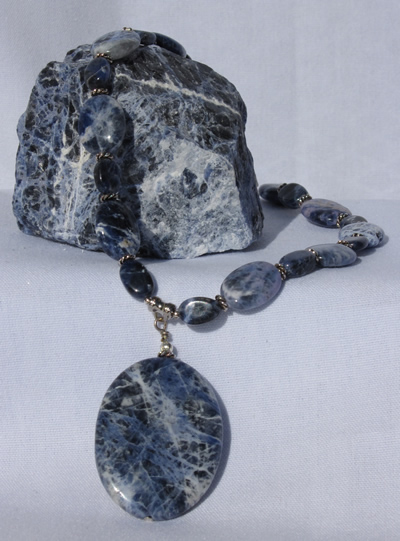 A "Bluer than blue" necklace and pendant capture the blending of the natural blues and whites of sodalite stones. The large oval-shaped pendant contrasts blues against whites. Oval beads and irregular chunks offer textural interest. Perfect for daytime or casual wear!
Sodalite is found in all shades of blue. It is found as masses in igneous rocks. The most important commercial source of sodalite is in Ontario, Canada. It was discovered during a royal visit by Princess Margaret of England. Therefore, it is sometimes called "Princess Blue".
Source: Canada, Brazil, India, Namibia and the United States
Mythology: The meaning of sodalite is "sodium stone" reflecting its sodium content. It has been known for about 200 years and is valued for its striking white inclusions. Sodalite encourtages idealism and the drive for truth.