2016 GLG Natural Gemstone Jewelry Show Dates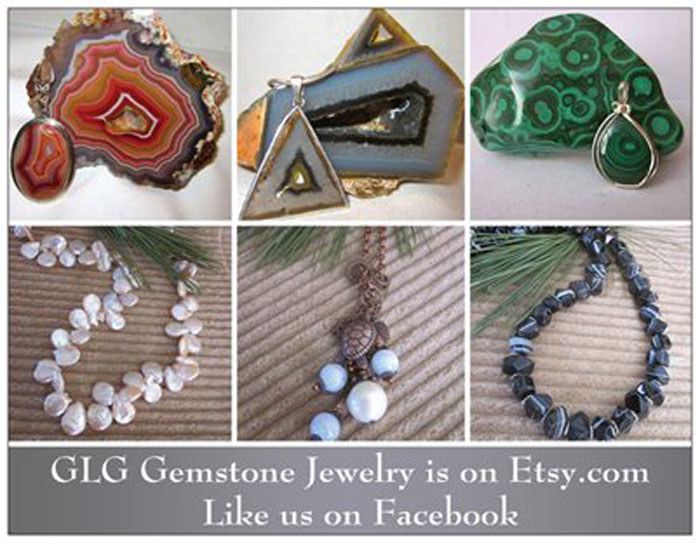 October 2016
Fall Colors Fine Art & Music Fest - Stillwater, MN
October 1, 2016
Join GLG at the Fall Colors Fine Art & Music Fest in Stillwater, MN on Sat. October 1, 10am-5pm and Sunday, October 2, 11am-4pm. The event is located in Stillwater, at Lowell Park on the St. Croix River. Enjoy the beauty of the St. Croix River with a backdrop of fall colors while shopping with GLG. Fall's oranges, browns, and yellows are reflected in our unique free-form pendants: dinosaur bone, zebra jasper, leopard skin jasper plus MORE! How's that for some great jewelry choices! Welcome fall!


GLG at 2016 Mn Mineral Club Annual Show at Cottage Grove, MN
October 15, 2016
GLG will be at COTTAGE GROVE, MN for the Minnesota Mineral Club Annual Show,Oct. 15-16 2016 Sat 10-5; Sun 10-4, National Guard Training & Community Center, 8180 Beldon Blvd. We'll have tons of new goodies from the DENVER show. We've launched a number of new natural stone collections plus mixed metals and the GLG steampunk jewelry style. WE'LL BE INDOORS THIS YEAR! CHECK out our agate art and nature/animal paintings on Brazilian agate. Summer may be over, but fall brings a time of celebration. Bring the kids for lots of free interactive rock experiences. See you there!



November 2016
Champlin Women of Today's Arts & Craft Show
Nov. 5, 2016
ONE DAY ONLY! FREE ADMISSION! GLG will be at the Champlin Women of Today's Arts & Craft Show on Saturday, November 5. WHERE? Champlin Park High School, 109th & Douglas Drive, Champlin, MN WHEN? 9AM-4PM WHAT? Be first to get a sneak peek at GLG's Holiday Collection filled with the best and brightest jewelry and specimens of the season! See you there.
North Oaks Holiday Home Tour & Boutique
Nov. 18, 2016
GLG Jewelry is proud to join more than 30 artisans for the North Oaks Guild 1 annual Home Tour and Boutique with 20% of the proceeds donated to the Children's Hospital Association. This year's theme is HOME FOR THE HOLIDAYS! WHERE? North Oaks Golf Club, 54 East Oaks Rd, North Oaks, MN When? Friday, Nov. 18, (9-4) and Saturday, Nov. 19 (9-3pm) GLG will showcase its best and brightest holiday jewelry collection. Don't miss this special event.
Anoka County Rock Club's Holiday Show
Nov. 19, 2016
GLG will be at the Anoka County Rock and Gem Club's Holiday Show! HOLIDAY SHOPPING "ROCKS" OUT. Check out GLG's natural gemstone jewelry collections AND unique rock and mineral specimens. When? Sat. Nov. 19 (10AM t 5PM) and Sunday, Nov. (10AM - 4PM) WHERE? Crystal Community Center, 4800 Douglas Drive N, Crystal, MN Don't miss this opportunity!

Gustavus Adolphus Arts and Crafts Show
11-26-16
NEW SHOW ADDED! GLG is pleased to announce that we will showcase our fabulous jewelry collection at the 24th annual Gustavus Adolphus Arts and Craft Show, Saturday, November 26, 2016 from 9am to 4pm. 1669 Arcade St. (Hwy. 61 & Larpentuer, St. Paul, MN YES, IT'S THE SATURDAY AFTER THANKSGIVING! DON'T MISS THIS ONE DAY EVENT! That unique perfect GLG jewelry and specimen gift will be waiting just for you!



December 2016
GLG at the Annual Landmark Center Holiday Bazaar
December 1, 2016
Mark your calendars! Dec. 1, 2, 3 at the Landmark Holiday Bazaar at 75 5th ST. W in St. Paul. Bring your wish list-one stop shopping! Enjoy a beautiful setting, live holiday music, and the best of GLG jewelry. We're located on the 3rd floor, Historic Court Room 326. Thursday, Friday 10-8, Sat. 10-5

January 2017
GLG at the 2017 Tucson Gem and Mineral Show!
January 29, 2017
Tucson hosts the largest gem and mineral show around. For 3 weeks, Tucson becomes the International Hub for gem and mineral dealers from around the world. GLG will be there searching out the finest products to showcase at our 2017 shows!

February 2017
2017 MN SCI World Hunting EXPO
February 24, 2017
Come inside and visit GLG is at the 2017 MN SCI World Hunting Expo event. Friday and Saturday, February 24 & 25th, at the Minneapolis Marriot Northwest, 7025 Northland Drive North, Brooklyn Park, MN PUBLIC HOURS: FRIDAY: 2:00 TO 10:00 PM; SAT. 9AM-3:00PM. Preview our spring Jewelry Collection + mixed metals. + new accessories to brighten your spirits. See an amazing collection of wildlife displays while you visit. Don't miss a great time INDOORS! FREE ADMISSION glggemstonejewelry.etsy.com
March 2017
April 2017
SCI-2017 Lake Superior Chapter Annual Fundraiser
April 7, 2017
GLG SCI Annual Fundraiser will be held held at the Grand Casino, Hinkley, MN. on April 7 and April 8 - Friday and Saturday. SCI will open to the public for a limited time on Friday and Sat. . Please check the SCI Lake Superior Chapter website for information. NEW! Original art paintings on stones. We'll have our spectacular collection of necklaces, earrings, and bracelets. NEW-our line of petite stone jewelry for spring and summer. Gorgeous gemstone pendants! SHOP: glggemstonejewelry.etsy.com
May 2017
June 2017
July 2017
August 2017
September 2017