2017 GLG Natural Gemstone Jewelry Show Dates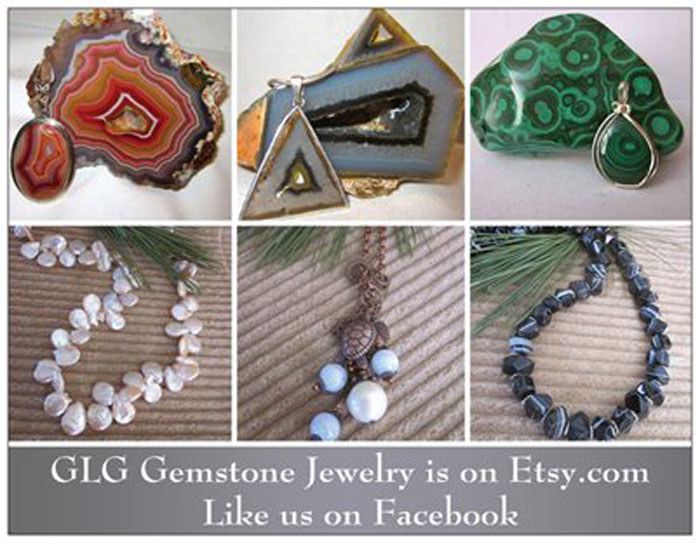 April 2017
SCI-2017 Lake Superior Chapter Annual Fundraiser
April 7, 2017
GLG SCI Annual Fundraiser will be held held at the Grand Casino, Hinkley, MN. on April 7 and April 8 - Friday and Saturday. SCI will open to the public for a limited time on Friday and Sat. . Please check the SCI Lake Superior Chapter website for information. NEW! Original art paintings on stones. We'll have our spectacular collection of necklaces, earrings, and bracelets. NEW-our line of petite stone jewelry for spring and summer. Gorgeous gemstone pendants! SHOP: glggemstonejewelry.etsy.com
May 2017
Cuyuna Gem, Rock & Mineral Society Spring Show
May 5, 2017
GLG Jewelry & Fine Agates will exhibit at the Cuyuna Agate & Mineral Show on Saturday (9-5) and Sunday (10-4) May 6 and 7, 2017. The show is hosting the 77th Mid-west Federation of Mineralogical & Geological Societies, so it's a BIG EVENT. Location: Crow Wing Co. Fairgrounds, 2000 SE 13th St., Brainerd, MN We'll be INDOORS at the show. New - Dead Camel Jasper (a great story behind the name). Cobalt Lace from India. Dentritic Opal from India. Wait till you see the fabulous finds we'll have at our booth. Amazing jewelry collections, free-form cabachons, and more. Great prices and perfect gifts for Mothers' Day. Lots to see and do--exhibits, demos, displays, flint knappers, Kids Korner, Door Prizes. Hey, spring is finally here. Come see all the fabulous finds we've brought back from TUCSON!
June 2017
WHITE BEAR LAKE MARKETFEST 2017
JUNE 15, 2017
Visit GLG JEWELRY & FINE AGATES each Thursday at MARKETFEST downtown WHITE BEAR LAKE for 7 Thursday evenings (June 15-July 27) from 6-9pm. Begins Thursday JUNE 15! Take home unique specimens, cool, casual summer jewelry, bracelets, earrings! Grab bags for the kids! Come each Thursday to see whats new. Rain or Shine! Lots of food, free live music, demonstrations, car show and lots of food...the perfect festival for summertime fun.

July 2017
Anoka Riverfest 2017
July 8, 2017
ONE DAY ONLY! GLG Jewelry & Fine Agate will exhibit at the 2017 Anoka Riverfest (juried show) on Saturday, July 8, 2017, from 9:00 a.m. to 5:00 p.m. in Historic Downtown Anoka, MN (Come early as 15,000+ people DO!) Lots of top quality specimens, unique jewelry collections, kids corner, & more. We're located near the fountain area. See you there!
48th Annual Moose Lake Agate Days ( Carlton Cty Gem & Mineral Club)
July 15, 2017
GLG will exhibit at the 48th Annual Moose Lake Agate Days on Saturday, July 15 (9-5) and Sunday July 16th 9-4. Check out the largest gem and mineral show in the Midwest. WILL BE INDOORS AT THE MOOSE LAKE HIGH SCHOOL! Lakers galore, gemstones, minerals, agates, jaspers. *****GLG will also be tailgating on Friday morning EARLY (7am to noon) at the DAYS INN, Moose Lake. Buy, sell, & trade BEFORE the regular show. We'll have rocks and lots of goodies just for FRIDAY morning. Agate Days + Tailgating = Super Fun!
August 2017
September 2017
October 2017
2017 Mn Mineral Club Annual Show at Cottage Grove, MN
October 21, 2017
GLG will be at the annual 2017 Minnesota Mineral Club Annual Show Sat. Oct. 21 (10-5) & Sun. Oct. 22, 10-4 WHERE: National Guard Training & Community Center, 8180 Beldon Blvd. Cottage Grove, MN We'll have tons of new goodies from the DENVER show. We've launched a number of new natural stone collections plus mixed metals....Summer may be over, but fall brings a time of celebration. Bring the kids for lots of FREE interactive rock experiences. Bring the family! See you there!






November 2017
2017nChamplin Women of Today's Arts & Craft Show
Nov. 4, 2016
ONE DAY ONLY! Champlin Women of Today's Arts & Craft Show on Saturday, November 4. WHERE? Champlin Park High School, 109th & Douglas Drive, Champlin, MN WHEN? 9AM-4PM WHAT? Be first to get a sneak peek at GLG's Holiday Collection filled with the best and brightest jewelry and specimens of the season! See you there.
Anoka County Rock Club Annual Holiday Show
November 11, 2017
Join GLG at the Anoka County Rock and Gem Club's Holiday Show. Shop EARLY for gifts for your special someone. When? Sat. Nov. 11 (10AM t 5PM) and Sunday, Nov. 12 (10AM - 4PM) WHERE? Crystal Community Center, 4800 Douglas Drive N, Crystal, MN Do you holiday shopping early! Top quality gemstone jewelry, Lake Superior Water Washed collections, Dendritic opal, Boulder Opal, Ethiopian Opal! Jaspers (dead camel jasper...what a name! great story). Great prices! Unique items!

2017 Annual Landmark Center Holiday Bazaar
November 30, 2017
Mark your 2017 calendars! Thursday, November 30, Friday and Saturday December 1, 2 for the Landmark Holiday Bazaar at 75 5th ST. W in St. Paul. Bring your wish list-one stop shopping! Enjoy a beautiful setting, live holiday music, and the best of GLG jewelry. We're located on the 3rd floor, Historic Court Room 326. Thursday, Friday 10-8, Sat. 10-5


December 2017
January 2018
February 2018
March 2018