2015 GLG Natural Gemstone Jewelry Show Dates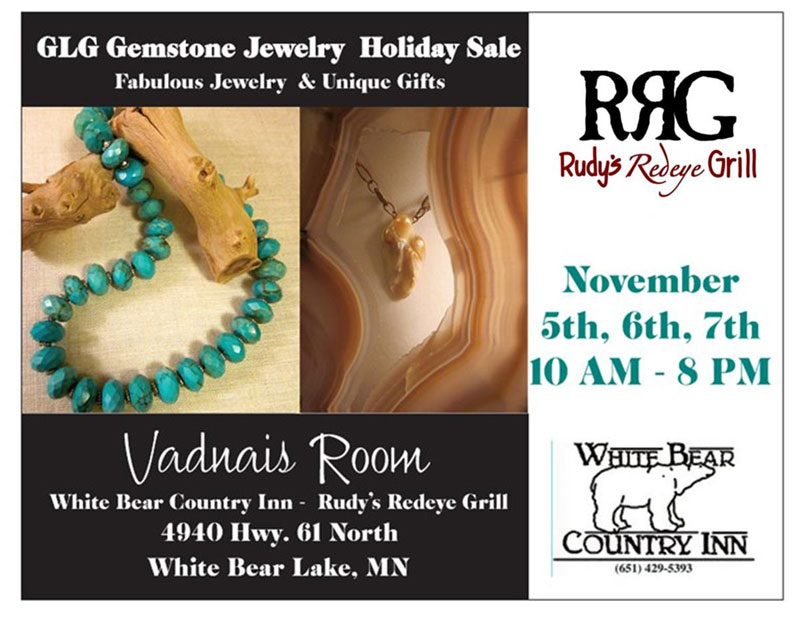 October 2015
GLG at 2015 Mn Mineral Club Annual Show
October 17, 2015
GLG will be at COTTAGE GROVE, MN for the Minnesota Mineral Club Annual Show,Oct. 17th and 18th. Sat 10-5; Sun 10-4, National Guard Training & Community Center, 8180 Beldon Blvd. We'll have tons of new goodies from the DENVER show. We've launched a number of new natural stone collections plus mixed metals and the GLG steampunk jewelry style. WE'LL BE INDOORS THIS YEAR! CHECK out our agate art and nature/animal paintings on Brazilian agate. Summer may be over, but fall brings a time of celebration. Bring the kids for lots of free interactive rock experiences. See you there!

November 2015
GLG HOLIDAY JEWELRY & GIFT SHOW!
NOVEMBER 6, 2015
YOU'VE ASKED FOR IT! Our GLG Extravaganza Holiday Sale Event will take place on NOVEMBER 6th, 7th and 8th. Our 3 day events will take place at Rudy's Redeye Grill & White Bear Country Inn located at 4940 Hwy. 61 North, White Bear Lake, MN. We're located in the White Bear Country Inn "Vadnais Room" surrounded by lovely decor and the fabulous Rudy's Redeye Grill. Our hours are 10:00 AM to 8:00 PM Thursday, Friday and Saturday! Lots of free parking and free admission! We're pulling out all the stops with our NEW "Uptown Collection" of jewelry. All grade AAA quality stone + natural pearl necklaces in various lengths. Mix, match (or not match) and layer are the keys to your unique jewelry style. Yes, over 175 one-of-a-kind pieces. Look for our fabulous collection of holiday gifts that say "You're worth it". Make this a "must see" event just in time for the holiday season. Want more information? Call 651-426-2737
GLG at the North Oaks Guild Holiday Home Tour & Boutique
November 20, 2015
Mark your calendars for the 2015 Home for the Holidays Tour and Boutique! North Oaks Guild will host the annual fundraising event for the Children's Hospital Association centered on making a difference for children and families in need of Children's Hospital Association (CHA) services,. GLG is pleased to participate at the Annual Holiday Home Tour & Boutique located at the North Oaks Golf Club on 54 East Oaks Road on Friday, Nov. 20 and Saturday, Nov. 21st. Combine a fabulous holiday house tour with an amazing shopping experience at the holiday boutique. GLG's holiday collection will be front and center at this event. See you there.


December 2015
GLG at the Annual Landmark Center Holiday Bazaar
December 3, 2015
Dec. 3rd, 4th and 5th. Just in time for amazing holiday shopping with GLG Jewelry & Rock Shop at the Landmark Holiday Bazaar, 75 5th St W , St Paul, MN. We're located on the 3rd floor, Historic Court Room 326. Thursday, Friday 10-8, Sat. 10-5 Shop our brightest holiday collection of necklaces, earrings, pendants and bracelets. Shop till you drop! Happy Holidays












January 2016
February 2016
March 2016
April 2016
May 2016
June 2016
July 2016
August 2016
September 2016