2017 GLG Natural Gemstone Jewelry Show Dates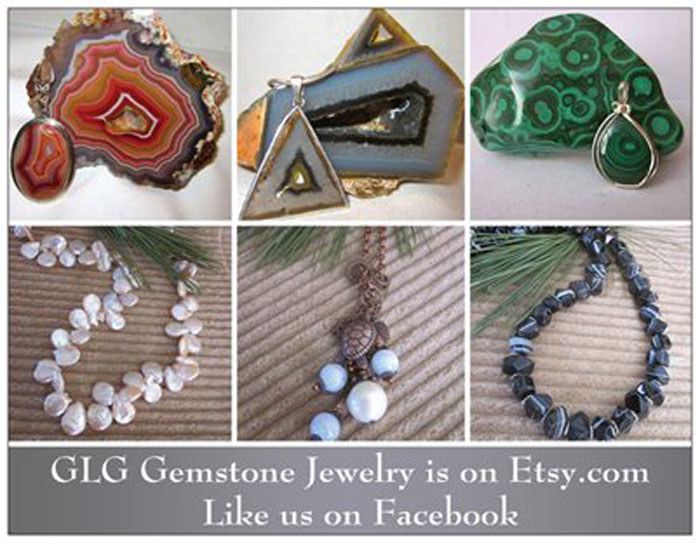 October 2017
2017 Mn Mineral Club Annual Show at Cottage Grove, MN
October 14, 2017
GLG will be at the annual 2017 Minnesota Mineral Club Annual Show WHEN: Sat. Oct. 14 (10-5) & Sun. Oct. 15, 10-4 WHERE: National Guard Training & Community Center, 8180 Beldon Blvd. Cottage Grove, MN We'll have tons of new goodies from the DENVER show. We've launched a number of new natural stone collections plus mixed metals....Summer may be over, but fall brings a time of celebration. Bring the kids for lots of FREE interactive rock experiences. Bring the family! See you there!








Des Moines 2017 Gem, Mineral, Jewelry, Fossil Show
October 21, 2017
NEW SHOW! GLG will exhibit at the 2017 Des Moines Gem, Jewelry, Mineral, and Fossil show on Sat. Oct. 21 and Sun., Oct. 22. Sat. 9-5 and Sun. 10-4. Location: Iowa State Fair Grounds, Paul Knapp Animal Learning Center, 3000 E. Grand Ave. Des Moines IOWA! The Des Moines Lapidary Society sponsors this really cool show. Jump in your car, catch the fall scenery and join us for a great show!


November 2017
2017nChamplin Women of Today's Arts & Craft Show
Nov. 4, 2016
ONE DAY ONLY! Champlin Women of Today's Arts & Craft Show on Saturday, November 4. WHERE? Champlin Park High School, 109th & Douglas Drive, Champlin, MN WHEN? 9AM-4PM WHAT? Be first to get a sneak peek at GLG's Holiday Collection filled with the best and brightest jewelry and specimens of the season! See you there.
Anoka County Rock Club Annual Holiday Show
November 11, 2017
Join GLG at the Anoka County Rock and Gem Club's Holiday Show. Shop EARLY for gifts for your special someone. When? Sat. Nov. 11 (10AM t 5PM) and Sunday, Nov. 12 (10AM - 4PM) WHERE? Crystal Community Center, 4800 Douglas Drive N, Crystal, MN Do you holiday shopping early! Top quality gemstone jewelry, Lake Superior Water Washed collections, Dendritic opal, Boulder Opal, Ethiopian Opal! Jaspers (dead camel jasper...what a name! great story). Great prices! Unique items!

2017 Annual Landmark Center Holiday Bazaar
November 30, 2017
Mark your 2017 calendars! Thursday, November 30, Friday and Saturday December 1, 2 for the Landmark Holiday Bazaar at 75 5th ST. W in St. Paul. Bring your wish list-one stop shopping! Enjoy a beautiful setting, live holiday music, and the best of GLG jewelry. We're located on the 3rd floor, Historic Court Room 326. Thursday, Friday 10-8, Sat. 10-5


December 2017
January 2018
February 2018
March 2018
April 2018
May 2018
June 2018
July 2018
August 2018
September 2018