Seminar Presentations
"Life is a continuous learning experience!"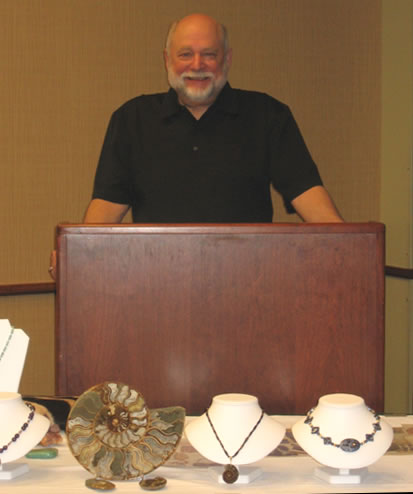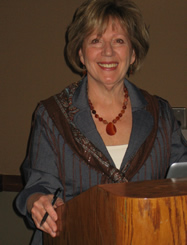 Gary and Beth believe that teaching about stones leads to a better understanding and appreciation of the beauty and value of minerals and semi-precious stones. Our seminars are designed to be interactive, hands-on, and most of all, FUN! We invite requests to present our seminars at your event.
Seminar Topics:
"Trophy Hunting Above and Below the Ground"
Presented by: Gary Grufman
Description: This seminar is presented by Gary Grufman, a twenty-year FNAWS member who offers a unique perspective about trophy hunting above and below the ground. Gary has not only had a lifelong passion for trophy hunting big-game, but also hunting for and collecting fine crystal and mineral specimens. His interest in specimens has lead to a business in designing and creating natural gemstone jewelry. Gary will share his adventures in hunting sheep and also his knowledge about natural gemstones found in various locations in which he has hunted.
Presented at: Foundation of North American Sheep Fundraiser
"The Science and Natural Power of Crystal & Gemstones & The Power of Crystals and Gemstones"
Presented by: Gary Grufman & Beth Fratzke
Description: People have varying degrees of knowledge about stones/gemstones/crystals.This workshop provides clear, easy to understand information in a visual form (PP) with interesting pictures accompanied by hands-on experience of holding specimens from around the world. We'll have over 30 specimens including malachite, Botswana agate, Blue Lace agate, rhodocrosite, onyx, calcite, amethyst, jasper, quartz (smoky, lemon, crystal, Kambaba jasper, & African turquoise. The second part of the seminar focuses on connecting the knowledge of form, energy & color of gemstones to the physical and spiritual aspects of our lives including the seven major chakra systems and how and why various stones are associated with a particular chakra.
Presented at: Mankato State Women's Sprituality Conference
"The Natural Power of Crystals and Gemstones"
Presented by: Beth Fratzke
Description: The mineral kingdom and the crystals it contains are the foundation of all physical matter and of life itself. The beauty, striking colors, and forms of gemstones have always attracted attention and yet their value goes far beyond surface appearance. Using a wide variety of gemstone specimens from around the world, participants will learn how and why crystal structures are closely bound up with spirituality and the physical body.
Presented at: Edge Life Expo